The Transgender Expression Haven (The Haven) is Vancouver's first Trans Art Gallery and virtual performance art venue for transgender, non-binary, Two-Spirit, intersex artists and other artists transcending gender. A radical cyber-artistic creative queer-designed space for the exhibition, amplification, and display of creative works by trans+ artists, showcasing elements of both visual and performance art and functions as the first digital trans+ gallery space that exists solely to celebrate the creative genius of trans+ artists, welcome for artists across the world in an interactive web-based platform.
We asked founder Angelic Goldsky a few questions about the interactive space that builds a transgender haven that transcends borders.
Transgender Expressions Haven
Tell us about Transgender Expressions Haven
The Transgender Expression Haven (The Haven) is a collective, virtual art venue/gallery, and organization celebrating transgender, non-binary, Two-Spirit, intersex artists and other artists transcending gender. The Haven is a cyber-artistic creative queer-designed space for the exhibition, amplification, and display of creative works by trans+ artists. We believe in making and uplifting transgender artists among transgender artists – and in witnessing what magic, brilliance and healing occurs in the space together. We run in-person and online events that centre media arts, trans performance and honouring transgender grief/pain/love/loss. Typically our exhibitions and gatherings give off cyber-utopia, trans-cyborgs-taking-over, digital-identity-tower-card, ritualistic-queer-vortex-portal-to-the-unknown vibes, playing in the open (source) space between spiritual justice, social justice and creative justice.
Transgender Expressions Haven
Where did the inspiration come to create it?
I think the journey starts in our old falling apart basement suite, me and my roomates loving called the Slamily House. We would have these parties every few months which were made up of drag shows, slam poetry shows, puppetry, DJ sets, and these performance art rituals – and then we became interested in using projections, making media art, music and mixed media work together. Our parties would bring out a seemingly endless amount of (future) queers and trans folks. Exploring VR headsets, web art, poems, meditations, freestyle jams, our home was a community art centre. And we all slowly came to realize that we were queer and trans together – understanding our identity through what we were creating… we never meant to create these ultra-queer art jams and parties, it just ended up that way. Until suddenly people started telling us more and more, "Your home let me understand who I am," – woah.  We realized after a few of these comments, we were doing something really important, letting ourselves explore our identities through art, and those around us. A beautiful co-creation. The experience showed me how much love can come through co-discovery through art, through just being together in full spectrum. Vulnerability, with people who are open to receiving in you in whatever form you may end up being – any letter of the rainbow alphabet. I think so much of trans identity requires exactly that, being safely witnessed and celebrated in your fearful/fearless evolution. We would talk endlessly about what transness even is together, and we came to collectively define it as: expression. From then on, it became our collective vision to keep building this energy and expanding the love of going deep and wide in our creativity and by extension, our queerness. And welcoming all the new artists, creatives and queers that come into sharing and expanding that vision.
Transgender Expressions Haven has some interactive elements to it, can you tell us about how this works and brings together community in a unique way?
Yes, we have our beautiful digital gallery up right now. It is essentially a video-game gallery that you can walk around, that speaks to the theme of "Queer Digital Intimacies" from the perspectives of over 50+ trans artists. Many of which are in B.C. – and some across Canada and even the world. There is something really special about curating and creating an entirely digital space, something to be said about world-building, especially collectively as a population that might not access safety or freedom of self-expression in physical space. A digital space is something we can absolutely shape into our unique co-desires. Working with Grimm (Sam Herle) and Sol Cabrini, and the rest of the Haven team, we create a concept that is really thoughtful in its interactivity specifically.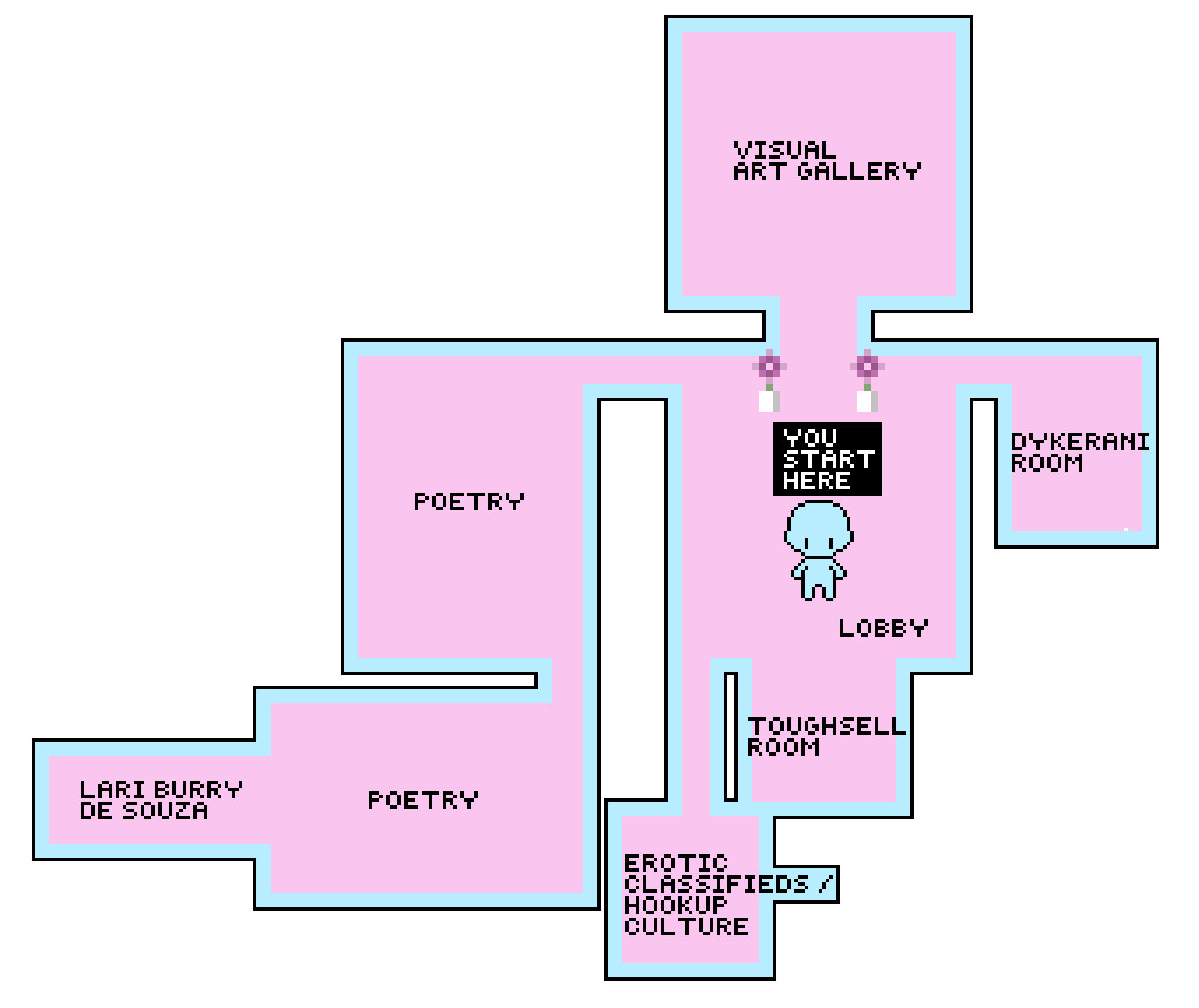 Check out the gallery here (follow all the click here's) and enjoy the ride!
How do you think fellow creatives can use their own voices to create communities in B.C.?
Let yourself dream in front of other people – even if only a millimeter. Let it catch on, catch fire, and follow the energy with your people.
Transgender Expressions Haven
What are your most memorable moments with Transgender Expressions Haven so far?
There have been so many memorable moments across the Haven. It was really beautiful having our event Cyborg Transcension at the Dr.Sun Yat-Sen Classical Chinese Gardens featuring amazing poets and electronic artists in such a beautiful and inclusive venue. Or holding the Trans Day of Remembrance Vigil at  Xʷc̓ic̓əsəm Garden, it was really a gift to have such a sacred space for shared mourning and grief. We continued to think about TDOR in collaborating with Level Up Vancouver – where we were able to bring Danielle Brathwaite-Shirley's art video game Black Trans Archive illuminating east side studios.
More recently, we enjoyed putting together Augmented Reality at Buddies & Bad Times Theatre in Toronto, where we connected with the amazing trans+ community out there. And of course our exhibition launch, Queer Digital Intimacies, both online and in person, celebrating our amazing digital artists with real time interactivity in our exhibition, and a celebration and gender euphoric rave by DJ King Quartz. Phewph, it's been a lot of transcendence.

Transgender Expressions Haven
Tell us about some of the creators involved with Transgender Expressions Haven and community
There are too many amazing artists to count that we've worked with, in no particular order – some amazing artists we've had the pleasure to work with: Tough Sell (sound artist and musician), Dykerani, DJ Kota. And of course our amazing team: artist-scholar Sol Cabrini, musician-media artist Grimm (Sam Herle), drag artist-community arts organizer poet, Andy Warner, drag artist and communications expert and wildlife educator/scientist Jay Bastos (Batty Banks), teacher, poet, musician and administrator Elisha Lucero and community arts coordinator, poet and performer Nhylar. Shortly on our website we are working on visualizing a database of trans artists, so keep checking!
How can people get involved or support the Transgender Expressions Haven?
We always appreciate donations so we can pay our artists and continue creating meaningful events for the trans+ community. (You can donate at the link in our website: https://thehaven.lgbt/) Also if you are a trans, non binary, 2S, intersex, or gender non conforming artist (or perhaps, a questioning creative person) and want to get involved with the Haven reach out to us at info@thehaven.lgbt or visit our website to register as an artist for opportunities to perform, exhibit and co-create!
Transgender Expressions Haven
Learn more
https://0zbf16.p3cdn1.secureserver.net/wp-content/uploads/2022/03/image_123986672.jpg?time=1686353394
1334
750
BC Creates
https://0zbf16.p3cdn1.secureserver.net/wp-content/uploads/2020/01/BC_Creates-Logo_Colour-01-1-600x198.png
BC Creates
2022-03-25 10:34:02
2022-05-11 11:24:47
Finding a cyber-utopia at Transgender Expression Haven, a Q+A with Angelic Goldsky